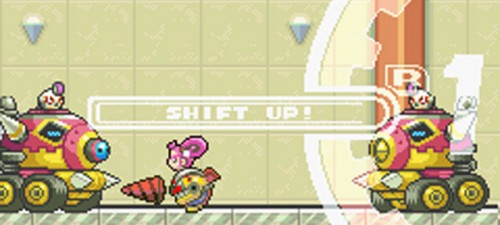 Here's a few games to try on the awe­some lit­tle hand­held that is the Gameboy Advance…
1001 No.57: 'Advance Wars' (Gameboy Advance, 2002)
In the past, turn-based-strategy games have turned me right off. These are type of the games where, unlike some­thing like Command & Conquer, each player takes turns to decide their next move — and deci­sions are dic­tated by a num­ber of points that can be used to move, attack etc.
Frankly I always found the idea extremely bor­ing and tedious — where would the excite­ment be? Turns out I was wrong… so very wrong.
Advance Wars has ten­sion — and if any­thing it is even more tense than your nor­mal strat­egy game. What's my next move? What is my oppo­nent think­ing? It's like a game of chess, but the kind of chess where your pieces go around shoot­ing, shelling and bomb­ing eachother. It's bril­liant. And it's tough — one small error early on can cost you the game, and it requires some real care­ful thought about how you deploy your armies. Don't you dare con­sider send­ing those lit­tle mech­a­nised infantry against those heavy tanks — and woe betide you if you leave your anti-air units undefended!
Try it, it's bril­liant fun, with awe­some anime style graph­ics and a good learn­ing curve. Thanks 1001 for get­ting me to try Advance Wars! There were a cou­ple of sequels too, so at some point I'll have to check them out…
1001 No.58: 'Drill Dozer' (Gameboy Advance, 2006)
It's always great to see some­thing fresh, a new spin on an old idea — and so I really enjoyed stum­bling upon Drill Dozer, an odd lit­tle 2D plat­former on the Gameboy Advance. It's like very many games of its type, with var­ied lev­els, bad guys, and cre­ative end-of-stage bosses — but what makes Drill Dozer dif­fer­ent is in the name: your drill.
You basi­cally con­trol a mini drilling machine, and with the use of the L + R but­tons you can shift through gears for more power. Your drill is your one and only tool — it is your weapon but also is used for all sorts of things — spin through main­te­nance shafts; pro­pel your­self across gaps; attach a pro­peller to go through water, or fly through the air.
The orig­i­nal car­tridge fea­tured a built-in rum­ble pack; but was never released in Europe. A snappy sto­ry­line, funny dia­logue, cute graph­ics, and not too long — this one is most def­i­nitely worth a go.
1001 No.59: 'Astro Boy: Omega Factor' (Gameboy Advance, 2005)
Not a huge amount to say about this one — it's a bril­liant side scroller by some of the guys who made Gunstar Heroes, so you can guess at both the tough level of dif­fi­culty and the epic mad­ness that's in store for you should you try it.
It's based on some anime tv show thing, which prob­a­bly adds some­thing if you know the char­ac­ters — but it doesn't mat­ter. One odd thing about it is the amount of revis­it­ing of old lev­els you need to do to get the true end­ing — [spoiler alert!] the first time through the game, you actu­ally lose. Weird. And tough. But good. Features fly­ing robot horses.