While playing Dishonored, I heard those words. And I thought… I've heard that before. Someone else has taken the time to show you exactly where in the vid above, but it was a wonderful moment – reminding me of some good times.
I recently finished Dishonored, and I'd say it was one of the best games of 2012. Plenty about it was awesome, but most of all I probably enjoyed it the most because (as you see above) it reminded me of the Thief series – which started in 1998 but in my view peaked with the sequel Thief II: The Metal Age in 2000.
1001 No.66: 'Thief: The Dark Project' (1998)
and No.67: 'Thief II: The Metal Age' (2000)
Thief was one of those special moments in gaming, an attempt to create something new. It essentially shaped a new genre in gaming, of stealth – and in first-person too, something that hadn't been tried before. It was set in an awesome steampunk-style medieval age, and heavily relied on lighting and sound in the gameplay.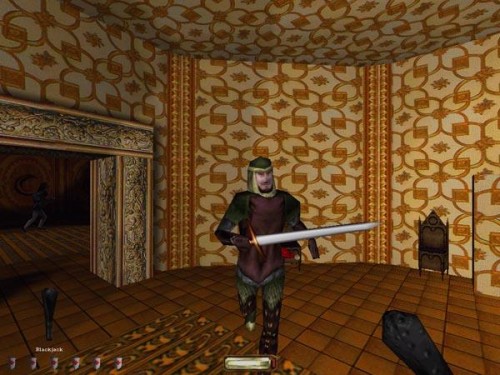 It still had flaws (sometimes too many zombies and undead monsters spoiling the mood a little), but Thief II did away with many of these – getting close to perfection, and becoming a real gaming classic. Levels are huge, taking hours to complete, but the atmosphere is incredible – and there's still nothing so satisfying as sneaking up on an unsuspecting mumbling guard, before smacking him over the head with your trusty blackjack.
Dishonored awakened all those memories within me of good times with Thief; and for that I'm grateful. But now I think I'm going to have to go back and play them all again.
BUT WAIT
Thief 4… on the way? There's a full reveal over at gameinformer.