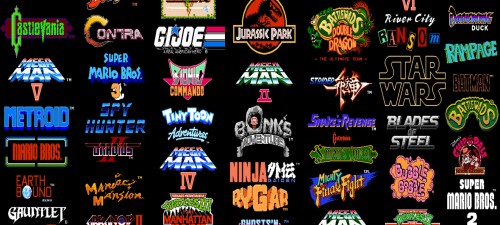 BOOM! It's 2016 people and just where the hell did 2015 go?!
Those of you who care, as well as the more observant of you, will have noticed that I spent most of 2015 doing something other than writing super awesome content for the UCHG. Yes I made the odd appearance in a few videos throughout the year but other than that I went 10 months providing fuck all.  "Where were you?" I hear you cry – Well, we will get to that, but first I have some catching up to do on what's been going down since I was away.
January
They say that January can be one of the most depressing months of the year, they also say that Red Bull gives you wings and diesel cars get good scores on emissions tests… To help with those January blues Fen provided a link to over 200 MS-DOS games to help you fill your days with retro gaming goodness. He is a nice boy.
I also took the opportunity to bring some joy to our viewers, and myself (no no, not that kind of self induced joy) with my newly acquired buddy – Buckley the Pug!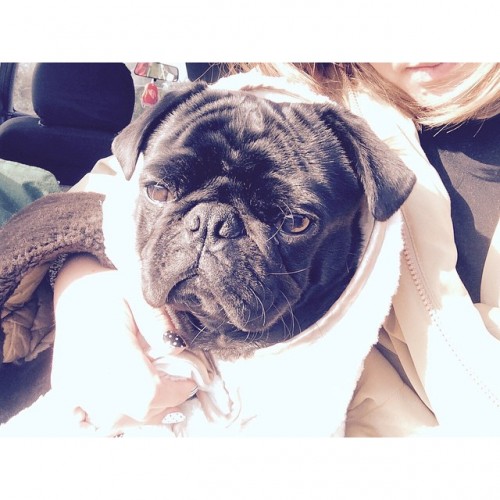 Look at his little dog face!
Buck was the perfect subject for another game of Which is Better?. Pitted up against a copy of Winter Based Activities or Die there was to be only one winner. The grunty little blighter!
February
Little did you know that this would be my last post for the year. To be honest I was also unaware of this fact. I had no idea that the little idea I had floating around the back of my head would grow to such an enormous size and consume all of my spare time!
Before my departure I gave Ross and Fen a good run for their money in the creative department. After taking a week out from life I created the mighty Zapper Lamp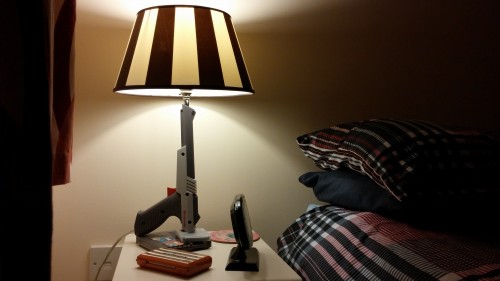 I am still outrageously proud of this despite it's immense cock blocking powers. No I wont remove my toy gun lamp from the bedside table! Maybe you should leave now….
March (Ikaruga)
As is fast becoming a tradition, only one game was played in March. This year it was down to Ross who got his secret agent on and dispatched many nameless goons whilst completing Counterspy on the PS.
That is all.
April
This happened in April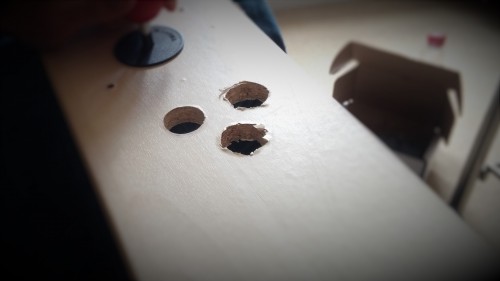 It is exactly as it looks – I drilled some holes in some wood and stuck my knob through them. Why? We will get to that later.
May
Fen could no longer fight the urges and finally filmed himself Beat-ing it. This of course was all aimed at ticking number 94 off the 1001 list and absolutely nothing to do with what you were thinking – you dirty bastard.
Saying that Fen has since been very cagey about leaving his phone unattended…
June
We took an early summer holiday in June. Whilst the rest of the UCHG took a break I continued with the execution of my plan…
July
By the time we hit July I was well and truly gone. My plan was in full swing but I had hit a problem – I needed wood. I needed so much wood I would be unable to get a hold of it all on my own, I needed help. I needed Steve.
On hearing about my desire for some serious wood Steve came up with an idea. Within hours we were in a car park with a back seat practically overflowing with all the wood I could ever want or need. What a friend!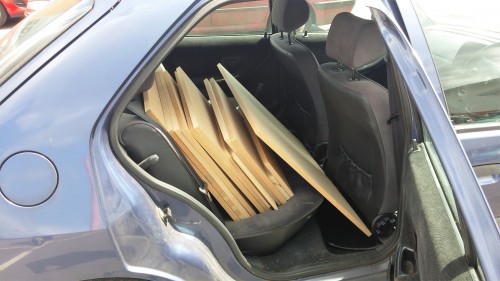 August
Preparations for the first member of the UCHG turning 30 were the focus of August. To celebrate this Fen curated possibly the finest list of LAN games ever seen and suggested we go right back to our beginnings and take this Birthday LAN outside!
The list of games soon grew and as the month drew to a close, after many hours of installing, testing, swearing and patching. We were ready to go.
September
Sadly the weather defeated us when it came to our outside 30th birthday LAN. Due to seemingly never ending rain we were forced to make it an inside affair. It was still awesome!
We also ticked off numbers 98 and 99 from the 1001 with Gauntlet and Gauntlet II.
If that wasn't cool enough we also hit the hundred on the 1001 list with the mighty SEGA Rally!
October
Halloween – you all know what happens on Halloween. We play Splatterhouse. This year we started Splatterhouse 2 and of course got about half way through before getting stuck. Don't worry, after the obligatory year's practise we will be back to take this bitch down!
November
As the winter set in I spent many many hours is a cold workshop with nothing but a soldering iron and rage to keep me warm. After popping a few capacitors I had created this beauty.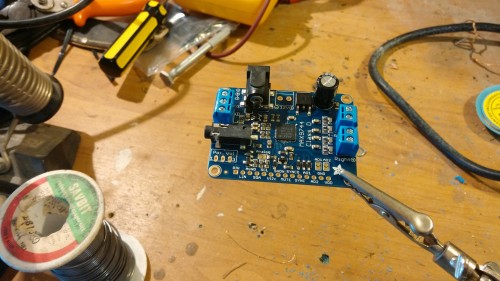 It was a key step in my plan, one that would bring me close to its completion, but not close enough.
December
So this is Christmas, and what have you done? – Its all listed above actually, you just skipped down to the bottom didn't you?
We rounded the year off as it started with Fen offering up more free games. This time it was Shadow Complex and its completion also ticked game 101 off the list. Only another 900 to go!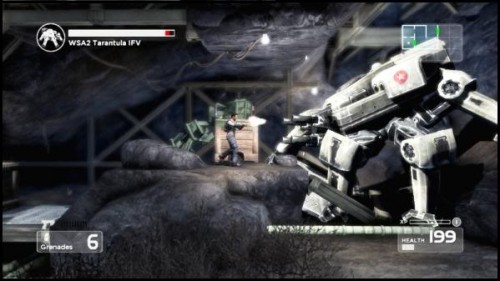 So there we have it, another year down and more games played. "But what of your disappearance?" Clearly I have been up to something. Something big, glorious and hugely satisfying [insert knob joke here].
If the clues above have not tipped you off then maybe you should take a little look at Twitter feed for a few more. You can find us @UCHG2008
All I can say for now is Happy New Year! and thank you for the continued love and support you have shown to the UCHG.
Stay tuned for the great reveal of my plan early this year – you wont want to miss this!